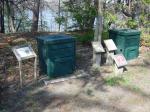 At Arlington Echo we encourage students to be conscientious of their food waste. Reducing food waste reduces the strain on the environment of growing crops. Composting or recycling organic matter provides nutrients to plants and reduces trash in landfills.
Anne Arundel County has a new initiative to increase the percentage of waste that gets recycled from 30% to 50%. Along with sending our paper, plastic and aluminum to a recycling plant to be made into new products, we can also recycle much of our non-meat, non-dairy food waste.
During meals at Arlington Echo students learn what waste can be composted.