The Drownproofing Program is a comprehensive aquatic safety program for fifth grade students in Anne Arundel County Public Schools. Students learn personal water safety skills through classroom and pool instruction. At school, water safety readiness lessons are taught by classroom teachers; these lessons are aligned with the Language Arts curriculum. Students are then transported to one of two pools used for the program. The Arundel Olympic Swim Center in Annapolis is used throughout the school year. The pool at Arlington Echo is used in September, May and June. Each student receives four hours of instruction in the pool by certified aquatic safety instructors. Lessons focus on personal water safety, use of personal flotation devices (PFDs), safe rescues of others, cold water survival techniques, hypothermia and ice safety. Instructors complete a skills evaluation for each student. Classroom teachers recruit parent volunteers to assist with supervision. All volunteers undergo background checks.
* Students
* Lessons
* Contact
In preparation for the Drownproofing Program, please follow the guidelines below. Classroom teachers will also share this information with students before the program.
Students are to bring the following equipment to the pool:
* Bathing suit, two towels and a carrying bag. Students may wish to wear their bathing suits under their clothing and bring a pair of underwear for changing.
* On the day of the Cold Water Survival lesson, a pair of long pants (jeans or athletic wear) and a long-sleeved button-down shirt (cotton or flannel) will be needed. Sweatshirts do not inflate well during this lesson.
* A brush or comb.
* A ponytail holder or rubber band for students with long hair.
* Goggles may be worn, but will not be allowed if they interfere with instruction.
* A T-shirt may be worn over the bathing suit.
* Neutral smelling lotions and hair de-tangle products can brought but not shared.
Students are NOT to bring:
* Money or valuables such as watches or jewelry.
* Hair dryers, shampoo, soap or hairstyling products such as hair gel or hair spray.
* Food, candy or chewing gum.
* Masks, nose plugs or aqua shoes.
* Cell phones or electronic devices.
Parent volunteers are an integral part of the Drownproofing Program, helping to meet the safety and instructional needs of the students. They serve as Aquatic Assistants and/or Readiness Assistants under the supervision of a Drownproofing instructor.
In preparation for Drownproofing, please follow these guidelines:
* Complete the Background Check application online a minimum of THREE WEEKS prior to volunteering. Chaperone Information/Background Checks
* Complete Sexual Harassment and Child Abuse Prevention training at school.
* Arrive at the pool FIFTEEN MINUTES prior to the students if you are not riding the bus.
* Check Volunteer Board in classroom upon arrival at the pool for your name.
* Aquatic Assistants bring swim wear and towel. Lockers are available for a fee or items can be stored on volunteer tables in the classroom.
* Dress for the climate of the pool and locker room areas: Readiness Assistants should be prepared for the warmth of the pool while Aquatic Assistants should be prepared for the chill.
* Please do not bring younger siblings to the pool during the Drownproofing Program.
Volunteer Responsibilities:
1. Reinforce pool rules at all times.
2. Assist in supervising the students while at the facility.
3. Be alert to the needs of students and instructors.
4. Be at the pool edge monitoring students' safety.
5. Be enthusiastic, patient, persuasive and encouraging.
6. Use positive statements when giving instructions.
7. Use positive terminology to alleviate students' fear of the water. For example, instead of saying, "Put your face underwater," say, "Put your nose in the water," "Hide your face in the water," or "Get your hair wet."
8. Positive verbal reinforcement is crucial! A smile also helps!
Directons to Arundel Olympic Swim Center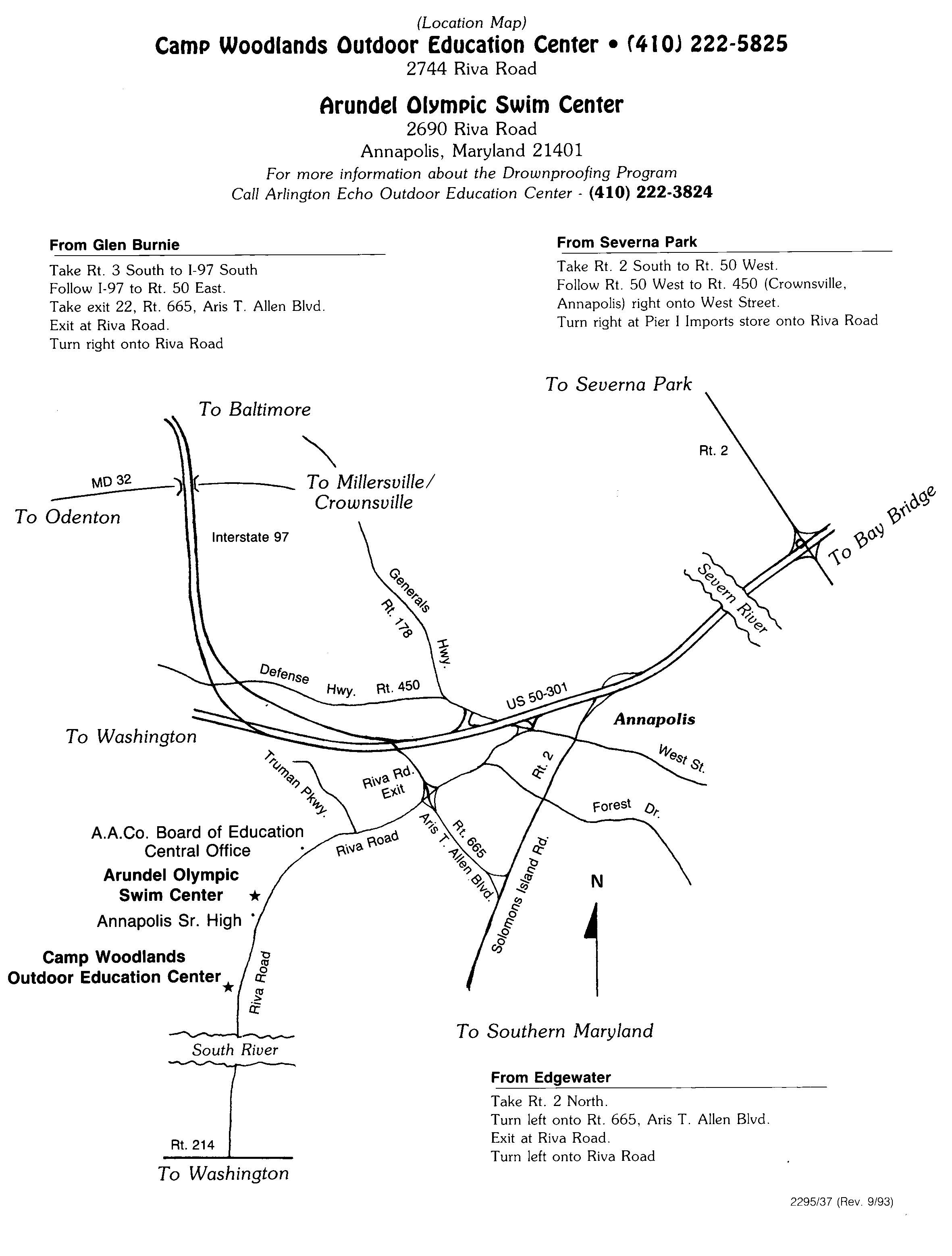 Drownproofing is an aquatic safety education program. Swimmers and non-swimmers will gain water safety skills according to each individual's ability. Students should know that they will go into deep water if they choose to be tested. Non-swimmers will be in the shallow area of the pool where they can stand up.
Personal Safety: How do I save myself if I were to get into trouble in the water?
* Briefly discuss the causes of drowning.
* Discuss expectations and student responsibilities.
* Screening will be done based on swimming ability to place students in instructional groups.
* Skills will be taught based on where the assessment has placed the student: deep water or shallow water.
Personal Flotation Devices (PFDs): Your Friend for Life
* Discuss proper size, shape and types of PFDs.
* Demonstrate how to put on a PFD on land and in water.
* Observe a demonstration on the use of the five classes of PFDs.
Non-Swimming Rescues: How do I save someone safely without endangering myself?
* Discuss and demonstrate the proper steps when evaluating an emergency situation.
* Perform a non-swimming rescue.
Cold Water Survival: Cold Water Can Kill
* Briefly discuss hypothermia and cold water survival.
* Swim with a long pair of pants and long-sleeved shirt.
* Inflate clothing to make a flotation aid.
Cathy Bellarin cbellarin@aacps.org
Arundel Olympic Swim Center 410-222-5855
Arlington Echo 410-222-3822