American Eel Raise & Release Project
Arlington Echo is excited to begin a new project in cooperation with Maryland Department of Natural Resources, the American Eel Raise & Release Project! Teachers will be raising American Eels from the "glass eel" stage to "elver" stage during the spring of 2008!
Teachers & Students will be:
Attending an American Eel in-service in December or January
Setting up an eel tank in the classroom
Making Brine Shrimp and feeding elvers daily
Learning tank maintenance
Research projects with elvers and the mysteries of the Sargasso Sea
Observe and study stages of eel development
Educate other classes about eels
Release yellow eels into a fresh water stream in May or June
Why American Eels?
Known for their slimy, snake-like appearance, many American Eels call the Chesapeake Bay and its many tributaries home. Floating from the Sargasso Sea, small "glass eels" swim towards the North American coast to find fresh water streams where they grow and thrive. It is here where the American Eel is finding its greatest challenge. Habitat loss, overfishing, dams blocking fresh water streams, and water pollution are all contributing to their challenging migration. Historically in the Chesapeake Bay, the American eel was harvested by eelers and sold to both the European and Asian market or used as crab bait. Today, the American Eel population is believed to be decliing in some areas on the east coast, but is not warranted to be on the threatened or endangered species list.
American eels are an important component of the Bay, both ecologically and economically. Eels are a significant source of food for fish, mammals, turtles, and birds. Most eels caught in the Chesapeake Bay are exported to support the large demand as a favorite food for people in Europe and Asia. However, American Eels still have many mysteries that we have still not uncovered.
Project Time line
| | |
| --- | --- |
| Month | Task |
| August | Chesapeake Connections Workshop |
| November | Schedule in-service date & materials list |
| December & January | Attend In-service |
| February | Set up tank & Classroom presentations |
| March | Receive glass eels |
| March- May/June | Raise elvers |
| May/June | Release elvers |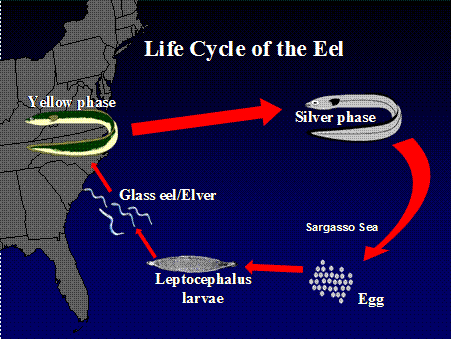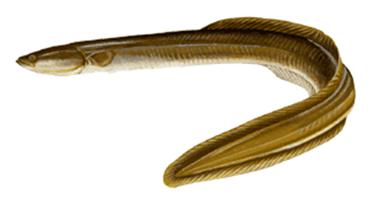 American Eel
Anguilla rostrata
• The American eel has pectoral fins and a very long, continuous fin which is the dorsal fin, anal fin, and tail fin combined. Adults usually white or light-colored below and brownish to blue-black above, but coloration is variable.
• Size: Eels range in size from 2 inches to over 3 feet long. The females are much larger than the males.
• Distribution: Greenland south along the Atlantic coast of Canada and the USA to Panama, and throughout much of the West Indies south to Trinidad.
• Habitat: Eels prefer muddy bottoms and calm waters. They are nocturnal which means they are active at night. During the day eels hide under rocks on the bottom.
• Food Preference: They eat a variety of fish, insects, snail, clams, and worms.