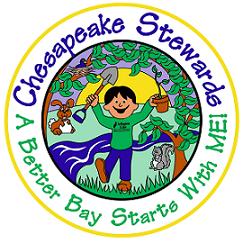 In the spring of 2009, we began to implement the Chesapeake Stewards initiative at Arlington Echo. The purpose is to inform students and parent volunteers about how their actions affect the Chesapeake Bay and to motivate them to take Bay-friendly actions when they return home.

Becoming a Chesapeake Steward is both easy, and rewarding! With education and motivation, any man, woman and child can become a Chesapeake Steward!
Proir to an Arlington Echo trip, during planning with our teachers, we cover the expected outcomes of their outdoor experience. We ask the teachers to explain to their students that we want to improve our efforts to promote environmental literacy. Environmental literacy is explained as knowledge, skills, experiences, attitudes and motivations that lead to environmentally responsible actions. Therefore, we want to challenge the students to become Chesapeake Stewards—people who take action to help the Bay.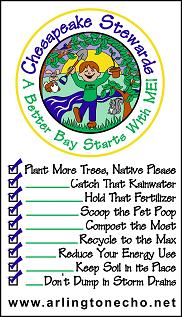 During their trip, all aspects of the experience are tied to becoming a Chesapeake Steward. All lessons, and meals tie material to everyday life of our students, and provide easy can-do solutions to our environmental issues. At the end of the trip, each student recieves a magnet to take home which gives simple examples of things they can do at home and at school, to set an example for others and to motivate themselves to continue to act as a Chesapeake Steward even when no one is watching.
Some of the easy can-do things students can do, are to plant more trees, catch rainwater (with rain barrels, etc.), reduce fertilizer use, pick up pet waste, compost uneaten food, recycle, reduce energy use, prevent erosion (by planting rain gardens, and slowing down rainwater), and keeping our land and stormdrains free of litter.
Read More