El Campo del Bosque
Grades 1-5
August 5-8
8:30 a.m. - 3:30 p.m.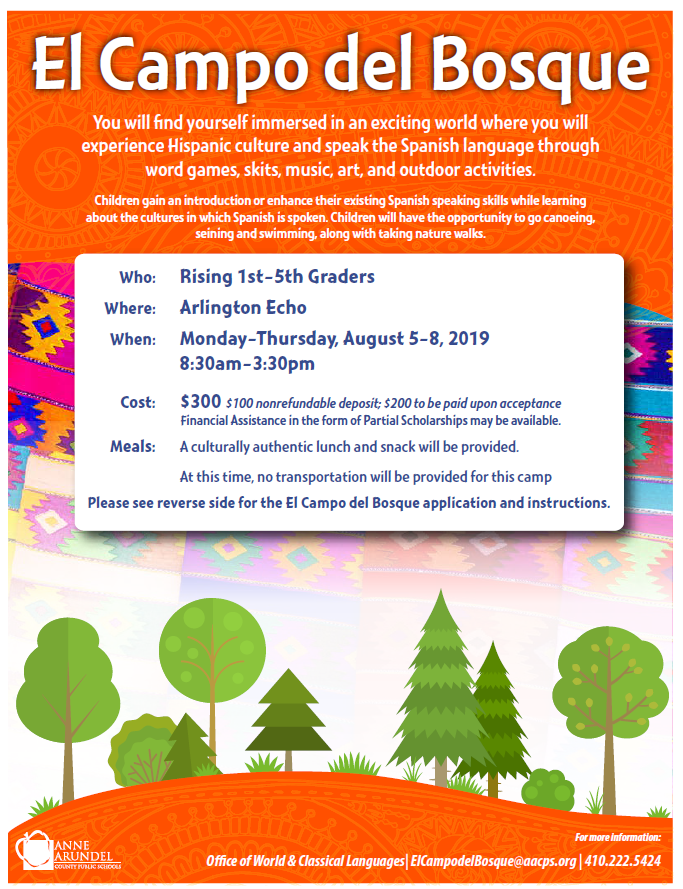 The goal of El Campo del Bosque is to help learners make basic exchanges in spanish and develop an appreciation for the diverse Hispanic cultures. Children with any range of Spanish proficiency are encouraged to attend and immerse themselves into the non-intimidating yet challenging "Spanish only" environment. Native and non-native speaking AACPS teachers instruct small groups with the help of counselors who are current high school Spanish students. During the 5 days, campers will experience the structure and sound of the language through the use of engaging songs, crafts, outdoor games, as well as exciting cultural and environmental activities. Children are grouped primarily by their grade levels. Campers also participate in swimming, canoeing, seining, crabbing, which are supervised by certified, English-speaking instructors at all times. This year will include a field trip on Tuesday, and archery will be offered for campers entering 4th or 5th grade in the fall!
Transportation
At this time, no transportation will be provided for this camp. Parents are expected to drop off their children promptly at 8:15 and pick up their children promptly at 3:30.
Cost
$300.00 ($100.00 deposit, $200.00 to be paid upon acceptance.)
Financial Assistance Scholarships may be available to students. Please note that only partial scholarships will be awarded.
Meals
Students will be provided with a culturally authentic lunch and snack each day.
Application Procedures
1. Students must complete El Campo del Bosque application form
2. The school office will supply the SIF number.
3. A $100.00 deposit must be sent with application forms (refunded if the student is not accepted or if the camp does not run. A minimum of 60 campers are needed in order to run the camp.)
4. Student Application Form, a Request for Financial Assistance Form (page 29), if applicable, and a $100.00 deposit must be returned by May 25 or until capacity is filled. Checks and applications should be mailed to:
World & Classical Language Office
Anne Arundel County Public Schools
2644 Riva Road
Annapolis, MD 21401
Please write on the outside of the envelope:
El Campo del Bosque
5. Attendance at the camp will be based on a" first-come, first-served" basis. The deposit will be refunded only
if the student is not accepted or if AACPS does not run the camp.


Follow-up Mailing to Participants
Students who will attend the camp will receive a map to Arlington Echo, a student information form,
and a sample schedule of activities for the week. For more information, call the World and Classical Languages Office at 410-222-5424 or send an email to ElCampodelBosque@aacps.org . Final Balance due May 25th
Make the check payable to:
Anne Arundel County Public Schools.


Payment/Refund Policy:
Full payment is due 30 days prior to start of camp. If full payment is not received by this time, your child's reservation will not be held. After this date, we cannot guarantee that space will be available when your payment is received. If a cancellation is made before the 30 day time period, a 100% refund will be issued (with a $10 processing fee). If a cancellation is made any time between 30-15 days prior to the start of camp, a 50% refund will be issued (with a $10 processing fee). No refunds will be issued 14 days or less prior to the start of camp. Additionally, there shall be no partial refund granted for any camper's late arrival, early withdrawal, non-arrival or dismissal for cause. All cancellations must be received in writing.