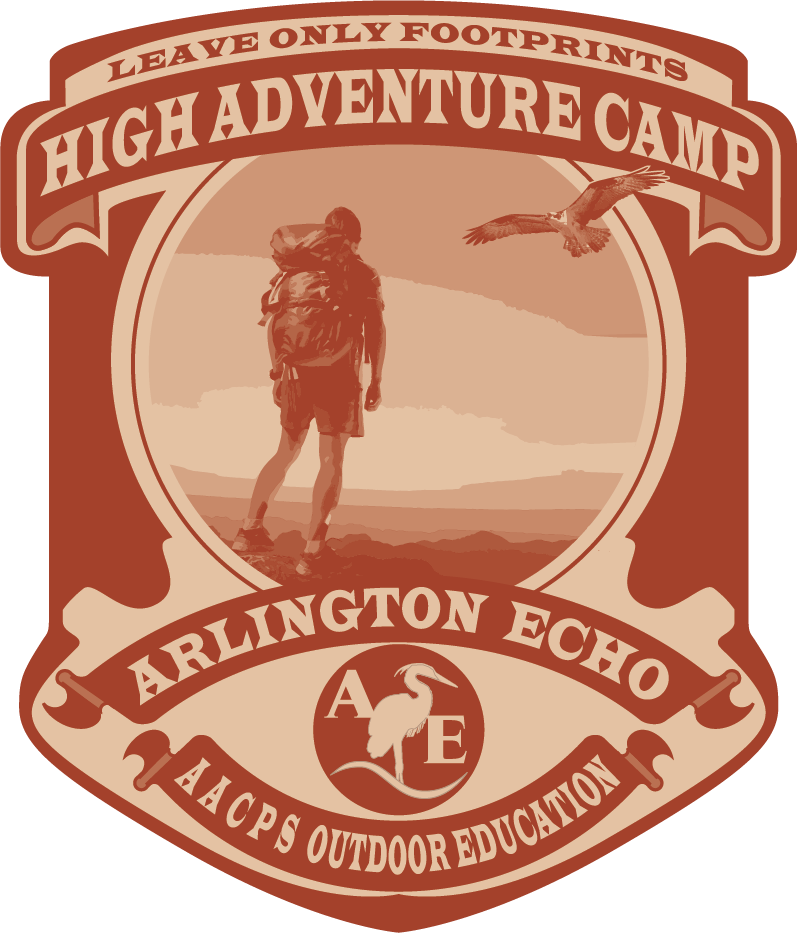 For

campers

entering grades 9-12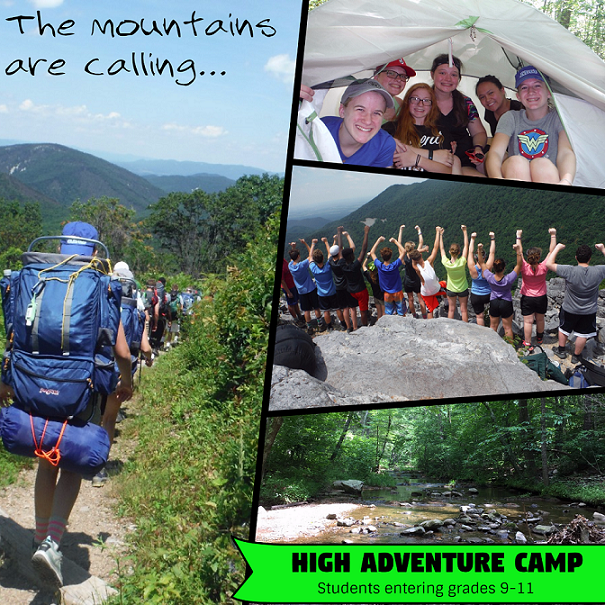 High Adventure Camp is a seven day, six night residential camp for adventurous campers seeking to explore the natural world in a wilderness setting. Campers will spend two days and nights at Arlington Echo, preparing for their upcoming adventure and learning the basics of backcountry skills and safety. Tuesday morning, we'll board the bus and drive out to the trailhead, and then our real adventure begins! Our campers will spend the next four days hiking through beautiful wilderness, taking time to enjoy breathtaking mountain vistas, observe wildlife, search streams for crayfish and tadpoles, and develop backcountry skills.
Space is extremely limited so sign up today!
Who Can Participate
All Outdoor Education camps are open to any student who has an interest in the environment, adventure, and personal growth.
Hiking to a remote campsite is an incredibly rewarding experience, but not without its challenges. Please note that by its nature, backpacking is a physically strenuous activity. Campers will be required to carry between 15-25 lbs. of gear and hike rugged terrain – sometimes steep – for up to 6 miles daily. If you have any questions or concerns about whether High Adventure Camp is right for your camper, please don't hesitate to call the number below.
Staff
Ted Hall, Arlington Echo Teacher Specialist, and Eóin Oneill, Arlington Echo Outdoor Educator, will direct the camp with the assistance of other full-time Arlington Echo staff. Staff have extensive outdoor experience and training in Wilderness First Aid. For more information, please contact Arlington Echo Outdoor Education Center at 410-222-3822.
Cost
The $700 fee includes meals, transportation, accommodations, activities and instructional materials. A deposit must be included with the application. The balance is due upon acceptance to the camp.

Payment/Refund Policy:
Full payment is due 30 days prior to start of camp. If full payment is not received by this time, your child's reservation will not be held. After this date, we cannot guarantee that space will be available when your payment is received. If a cancellation is made before the 30 day time period, a 100% refund will be issued (with a $10 processing fee). If a cancellation is made any time between 30-15 days prior to the start of camp, a 50% refund will be issued (with a $10 processing fee). No refunds will be issued 14 days or less prior to the start of camp. Additionally, there shall be no partial refund granted for any camper's late arrival, early withdrawal, non-arrival or dismissal for cause. All cancellations must be received in writing.
Application Procedures
1. Parents must complete the front of the Student Application Form.
2. A $350 deposit must be sent with the application form by May 25, 2018.
3. The balance of the fee ($350) will be due upon acceptance to the camp.
4. Make check payable to:
Anne Arundel County Public Schools.
Registration for 2019 is not open yet!
For up-to-the-minute camp updates, follow us on Facebook and Twitter!
To download and print an application or scholarship form: Financial Aid Application

If you do not have Adobe Acrobat Reader on your computer click the link below

For more information call Arlington Echo at 410-222-3822