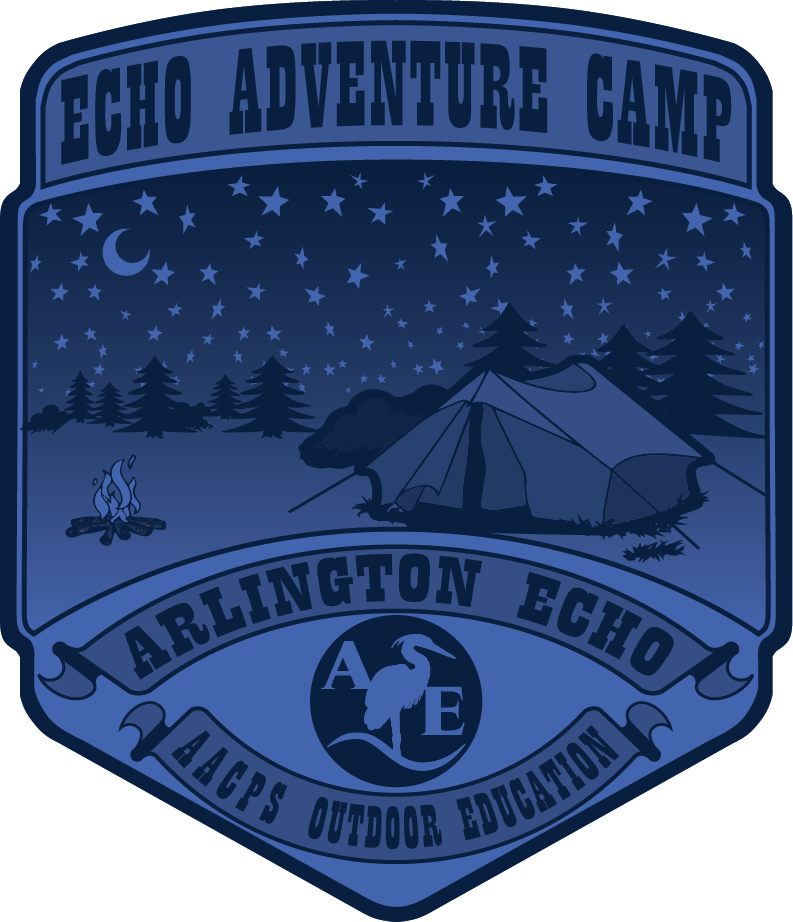 For

campers

entering grades 6-8
Not offered for 2021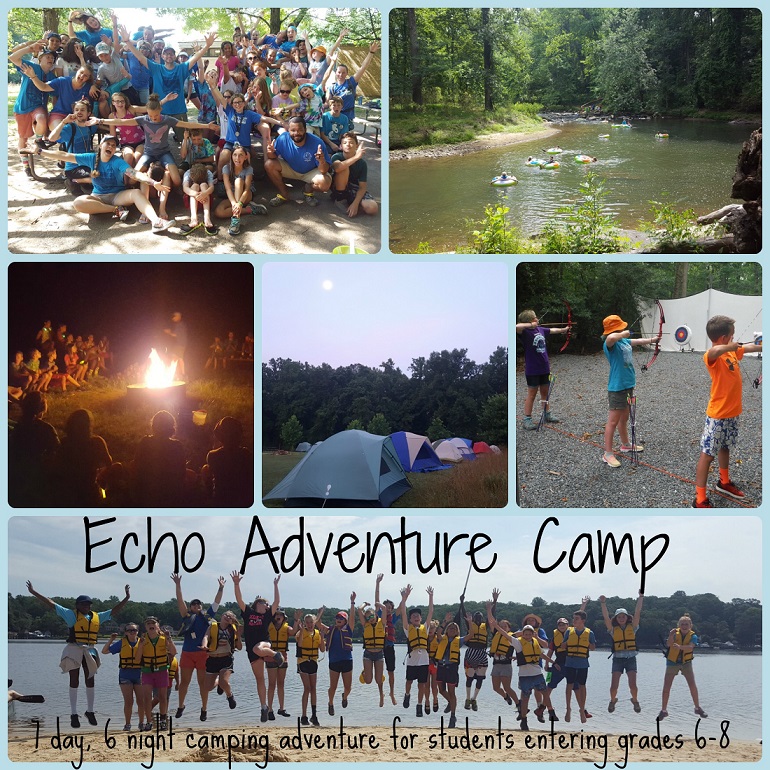 Echo Adventure Camp is a seven day, six night residential camp for students that enjoy being outdoors. Campers will explore natural ecosystems, develop outdoor skills, gain self-confidence, and grow their independence while participating in exciting activities and challenges. In addition to all the classic summer camp activities like canoeing, hiking, fishing, crabbing, archery, camp crafts, and more, campers will participate in a three night offsite tent camping trip which features trail hikes, outdoor meal preparation, stargazing, and much more! Our trained lifeguards will direct water safety instruction and canoeing skills.
Who Can Participate
All Outdoor Education camps are open to any student who has an interest in the environment, making new friends, adventure, and personal growth.
Staff
Lauren Jenkins, Arlington Echo Program Specialist, will direct the camp. Our staff consists of AACPS teachers as well as college students with experience in the areas of outdoor and environmental education. Volunteer counselors-in-training support the staff in many ways. For more information, please contact Arlington Echo Outdoor Education Center at 410-222-3822.
Cost
The $700 fee includes meals, transportation, accommodations, activities and instructional materials. $350.00 deposit must be included with the application. The $350.00 balance is due upon acceptance to the camp.
Payment/Refund Policy:
Full payment is due 30 days prior to start of camp. If full payment is not received by this time, your child's reservation will not be held. After this date, we cannot guarantee that space will be available when your payment is received. If a cancellation is made before the 30 day time period, a 100% refund will be issued (with a $10 processing fee). If a cancellation is made any time between 30-15 days prior to the start of camp, a 50% refund will be issued (with a $10 processing fee). No refunds will be issued 14 days or less prior to the start of camp. Additionally, there shall be no partial refund granted for any camper's late arrival, early withdrawal, non-arrival or dismissal for cause. All cancellations must be received in writing.
Application Procedures
1. Submit a paper application via mail, register by phone (call Arlington Echo at 410-222-3822), or REGISTER ONLINE! Not offered for 2021
2. A $350 deposit must be paid at the time of registration. Pay online, or make check payable to Anne Arundel County Public Schools
3. The balance of the fee ($350) will be due 30 days prior to the start of camp
4. To download and print a scholarship application form, click here . Send completed form to Arlington Echo, 975 Indian Landing Rd. Millersville, MD 21108 or fax to 410-222-3826.
For up-to-the-minute camp updates, follow us on Facebook, Twitter and Instagram!
Looking for a packing list? Check your CampDoc messages for all camp related info!
For more information call Arlington Echo at 410-222-3822