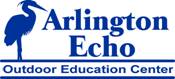 IN PARTNERSHIP WITH:








The Chesapeake Bay Trust, Army Corps of Engineers, Maryland Port Administration, Maryland Environmental Service


Supported By:




Terrapin Adventures



PROGRAM OVERVIEW

Terrapin Connection is a supplemental classroom program offered as part of AACPS/ Arlington Echo's Chesapeake Connections program, and is only available to AACPS/Chesapeake Connections participating classrooms. Operating under a Maryland Department of Natural Resources Scientific Collection Permit, pairs of Northern Diamondback Terrapin (Malaclemys terrapin) are placed in classrooms in October and released in May/June of the following year. During the project, students collect growth data, observe behaviors, learn care and husbandry protocols, and research the natural history of our State reptile.

Like all Chesapeake Connections program components, classroom teachers integrate the Terrapin Connection program throughout the curriculum, incorporating science, math, social studies, language arts, visual arts, and even music into the study of terrapins. Terrapin Connection features a high emphasis on relevant, hands-on learning that promotes a positive stewardship ethic, and engages students to take action and better understand the restoration of the Chesapeake Bay. Terrapins become the "vehicle" for learning and move the students from understanding to action. The program is supported through the Arlington Echo budget and a grant from the Chesapeake Bay Trust.
PARTNERSHIPS
Terrapin Connection features unique partnerships that provide unprecedented opportunities for research, restoration, and student engagement. Classroom terrapin hatchlings are obtained from Poplar Island Environmental Restoration Site through an agreement with the Maryland Environmental Service, Army Corps of Engineers, and the Maryland Port Administration. Staff at Poplar Island provided invaluable assistance and support throughout the project.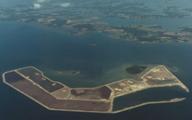 Poplar Island is a 1,140 acre restoration site off Tilghman Island in the Chesapeake Bay, and is a national model for the beneficial use of dredged material, which is obtained 34 miles to the north at the approach to Baltimore Harbor. A lack of predators, undisturbed sandy shorelines, and diversity of habitat types make for ideal terrapin nesting sites.

In addition, the program features a strong connection to authentic scientific study as the classroom terrapins are part of ongoing research conducted by Dr. Willem Roosenburg, Associate Professor of Biology at Ohio University and noted terrapin researcher. Dr. Roosenburg has completed extensive research on terrapin nest predation, temperature-dependent sex determination, population dynamics, and crab pot mortality. He is a leading voice in the conservation of terrapins, and Terrapin Connection provides a new facet of research examining survival rates of classroom-raised animals compared to other nest cohorts, which are marked by shell notches and injection of a wire tag upon hatching.



Prior to their release back on the beaches of Poplar Island in May and June, classroom terrapins are implanted with a PIT (Passive Integrated Transponder) microchip for identification. Upon recapture or return for nesting in future years, terrapins will be scanned for tags and growth data compared to information collected in the classroom. In this effort, students are part of relevant, cutting-edge research that is focused on the conservation of the species.
TEACHER TRAINING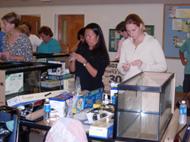 Prior to participation in the program, classroom teachers are required to participate in a detailed in-service training. Topics including the natural history of terrapins, research efforts, tank set-up, care and husbandry, and problem diagnosis and care are covered in depth. In addition, teachers participate in a presentation on Poplar Island and a briefing from our staff veterinarian. At the conclusion of the in-service, "returning" teachers are assigned their pair of terrapin hatchlings, complete with a "birth certificate" indicating hatching date, nest number and location on Poplar Island, and shell notch ID markings. Teachers who are new to the program receive a complete tank set-up and supplies, and pick their hatchlings up a week later after their tanks are up and running.


VETERINARY CARE
All terrapins in the program are under the care of Dr. Eileen Manyin, D.V.M., of the Greater Annapolis Veterinary Clinic, who serves as veterinary consultant to Arlington Echo. Dr. Manyin provides guidance on general care, diet, and overall husbandry of terrapins both in the classroom and at Arlington Echo. In addition, Dr. Manyin provides oversight to sick or injured terrapins housed at the Arlington Echo "terrapin hospital", were she prepares diagnostic and prescriptive treatments of illnesses and injuries. Interns at Arlington Echo provide much of the daily treatments to terrapin "patients" including, antibiotic injections, antibacterial washing, and heat lamp basking.
DATA COLLECTION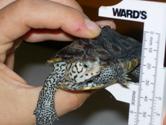 Program participants are required to collect weekly growth data, behavioral observations, and record husbandry practices. Students are encouraged to direct this activity and are trained by their teachers on proper measuring protocols. Data sheets are provided in an electronic format (excel spreadsheet) and are submitted monthly. Growth data is also collected during tagging with Dr. Roosenburg just prior to release.
CURRICULUM CONNECTIONS
One of the most exciting aspects of this program has been the interdisciplinary connections to existing classroom curricula. Because Chesapeake Connections is embedded within the AACPS course of study, teachers use the environment, including terrapins, as an integrating context with applications to math, science, language arts, visual arts, and social studies. Students have engaged in creative writing and visual arts projects, incorporated graphing and statistical analysis in recording growth data, and have even written songs about their terrapins. Several classrooms took an active role in supporting the 2007 legislation to ban terrapin harvesting, providing a real-life lesson in the legislative process. In addition, students research Bay-related issues and learn about restoration efforts on Poplar Island. Classroom terrapins become the "window" through which students explore the Chesapeake Bay and related issues.


For more information on Terrapin Connection, Contact Heather McCarthy at hhmccarthy@aacps.org