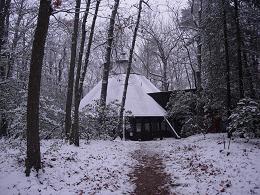 Camp Woodlands, a 32 acre wooded waterfront site in Annapolis, is the early childhood outdoor education facility for Anne Arundel County Public Schools. Owned by the Girl Scout Council of Central Maryland, this rustic spot on Broad Creek, just off the South River, is the site for all of Arlington Echo's Pre-K through 2nd grade early childhood day experiences.
While at Camp Woodlands, students, parent volunteers and teachers have ample opportunities to explore and enhance their classroom learning. Visitors can experience the wonders of the environment in a natural rustic setting.

The unspoiled beauty of Camp Woodlands allows for a unique immersion into outdoor education with hands-on experiences leading to environmental stewardship.